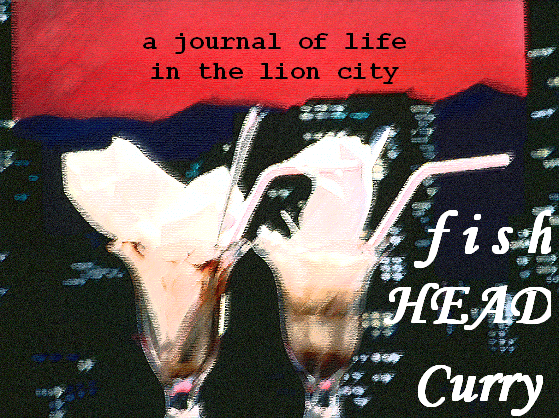 World Cup Bleus
Through the media, Singaporeans fulfilled their World Cup cravings
by Mardiana Hayati bte Osman
The World Cup. It seemed people spoke of nothing else during the tournament, for most Singaporeans and football fans around the world.
Singapore's S-League is not exactly a big attraction among Singaporeans, although the English Premier League is followed by many soccer fans here. A few factors which contributed to its ardent devotees include the extraordinary skills and amazing talent of European and English players. David Beckam, for example, has become more than a sports celebrity - he's an icon for many football fans around the world.
This year's World Cup…funny, huh. Scattered with unpredicted early exists of well-known teams such as France and Argentina it provided football fans with excitement, sadness and happiness accompanied with tears of joy and disappointment.
There's nothing quite like the World Cup...played once in every four years, it causes people from around the world, of different age groups, races, ethnicity and culture to come together at the specified venue of the event. For the first time, an Asian country, Korea co-hosted the event with Japan. This encouraged more people in Asia to follow the event closely. Stadiums were filled with many Koreans and Japanese watching and supporting their teams play enthusiastically.
Besides the upsets (the exits of giant teams in the first and second round of the tournament), the surprising emergence and entry of underdogs and unknown teams like Senegal shocked the arena of millennium football. More than any other, this World Cup proved that anything could happen in football. It's anybody's game once the kickoff starts.
The opening match started off with hot favourite, France playing against Senegal on the last day of May. The match was telecasted live on Singapore's free to air English channel, 5. A survey carried out by Today newspaper showed that it was the most watched program for that week.
During halftime, I spoke to a teenage boy watching the 'live' match between England and Sweden on a big screen at Liat Towers with about a hundred other football fans and passers-by. Keegan, 16, is a Manchester United fan and a die-hard England supporter who was there with a group of friends in their England jerseys.
"I'd rather watch my favourite team play than catch a good movie here in town on a lazy Sunday afternoon. Furthermore, the World Cup happens once in every four years."
He added that he keeps himself updated with World Cup matches by referring to the sports section in The New Paper and chatting with other football enthusiasts on mIRC, an internet-relay chatroom. He also watches World Cup updates on TV mobile when he travels on buses. Most of the people watching the match seemed to support England - observed when they were cheering once England had possession over the ball and when they attempted to score.
On another similar occasion at S-11 coffeeshop in Ang Mo Kio, a big crowd was spotted watching the match between South Korea and Portugal on a Friday evening. That was the final match played to determine which team would make it to the second round. South Korea, was one of the two Asian teams that managed to qualify for the second round with its stunning 1-0 victory over another favourite, Portugal.
Together with Japan who made it to the second round a few days before the South Korea-Portugal match, this has proved to be Asia's best World Cup ever.
Madam Fatimah, a housewife in her late 40's, said, "I'm definitely supporting South Korea. They play aggressively and with much high fighting spirit as they're known to be the 'tiger' of Asia. My husband and daughter are also football fans but we're supporting different teams."
She claimed that she used to be a die-hard supporter of the Singapore team when they participated in the Malaysia Cup in the late 80's and early 90's. When asked how she keeps herself updated with the World Cup, she says that she tunes in to the Malay radio station, Warna 94.2 FM. This radio channel is one of MediaCorp's radio stations that update listeners with the World Cup coverage at least hourly.
Television has been one of the means of watching 'live' soccer events in Singapore. This popular form of media has attracted a considerable number of viewers wanting to stay tuned to the World Cup. At Liat Towers Keegan admitted his lifestyle and that of many other soccer fans around the world changed for the month of June - the month of soccer.
A Channel 5 news item even reported that despite the tensions between Israel and Palestine over the past few months, the World Cup has brought both parties together in a way that only soccer could, and probably only during the World Cup period. Pictures showed them watching live soccer matches in a restaurant together.
Subscriptions to Singapore's only cable operator SCV increased when the World Cup started. This might be due to the lack of coverage on free to air television - Singapore's Channel 5 only showed the opening match and all the matches from the quarter-finals onwards to the final match.
The other possibility of the increase in subscription may be due to the closure of MediaCorp's sports channel, SportsCity. Viewers who do not subscribe to SCV relied on Malaysia's RTM1, TV3 or NTV7 and some Indonesian channels for match telecasts.
Our neighboring country, Malaysia, has managed to telecast all matches on either one of its three channels. This has urged more Singaporeans to tune in to Malaysian channels to catch the matches.
Kersim, a 27 year-old ex-soccer player from Balestier United women's soccer team appeared disappointed at this situation, saying "TCS (ie. MediaCorp Channel 5) only allows us to view the opening match and we have to subscribe to SCV for other qualifying matches".
Kersim normally watches the World Cup at home and is also another avid supporter of England. Her favourite footballer is one of the most promising and talented young players from the England squad - Michael Owen. She added that she still managed to keep herself updated with the World Cup by tuning in to radio news, television and chats with colleagues although she is filled with a busy schedule.
Channel 5 did provide half hour updates on the World Cup showing the goals scored and results of recent matches for at least a couple of minutes.
Updates were also being shown extensively on TV Mobile when commuters are on the run. News on Channel News Asia and Channel 5 covered the celebrations of the winning teams back at their hometowns such as the joy and happiness celebrated by many South Korean fans in Korea as they proceeded to the quarter-finals and finally the third place playoff of the tournament.
Channel 5's television game show, Wheel of Fortune and Who Wants to be a Millionaire had World Cup specials. Entertainment program, Kopi 'O' TehTarik on Malay channel, Suria, also covered the World Cup. The show was hosted by Najip Ali and had guests appearances by national footballers such as Aide Iskandar and Indra Sahdan and an ex-national and veteran player, Malek Awab.
The local print media managed decent coverage of this major sports event. Singapore has a number of local English newspapers such as The Straits Times, The New Paper, Today and Streats. With the availability of the wide range of newspapers, readers have the opportunity and choice to obtain an array of information on World Cup news. This has been evident in the amount of pages devoted to soccer, taking up about three and six pages respectively in the sports section of The Straits Times and Today newspapers. The coverage includes very detailed after-match results and comments, pre-match information of the team's chances and preparations in the next matches they are scheduled to play and many more.
19 year-old student, Diksha, who is currently working part-time during her June holidays is one of the many girls interested in the World Cup. She says she only glances through the sports section in Today newspaper on her way to work to see the standings of teams and had never turned to the sports section before the World Cup started. She also managed to catch updates of the World Cup on TV Mobile on her way to work each morning.
When asked how her lifestyle has changed since the start of the major football event, she added that she's home more often and that there's something to look forward to than before.
Mr Osman, a 50 year-old civil servant, stated that he goes through the Sports Section of The Straits Times and Today's newspaper thoroughly for information of the matches. He added he listens to the news on radio, watches television to get first hand news and 'chit chat' with colleagues at work to keep up with the progress of the event. He was a vivid supporter of Brazil and was sure that his favourite team would win the World Cup. "I supported Brazil because they had world class players, who are very disciplined, committed to their country and people and they are very patriotic."
Another medium of obtaining World Cup news is through the local radio stations.
Perfect Ten, NewsRadio and Class 95FM are some of the English radio stations that provide World Cup updates at least every hour.
Sports journalist Nick Jones from NewsRadio, 93.8FM said that he had to stay on till 10pm, or sometimes even later, during the World Cup, depending on whether the evening matches from the second round onwards are extended to extra-time time or penalty shoot-outs.
This major sports event has definitely increased his workload. When further asked which team he supports and the reason for it, he claimed excitedly that he is "all for England." The reason - because of his nationality.
The Internet has also been one of the means to keep up with World Cup updates. An online newspaper like The Straits Times Interactive provides fast, updated and reliable information for net-surfers. MIRC, an internet-relay chat program also enables football fans from around the world to 'chat' to each other online about World Cup issues that interest them.
Marlon, a Filipino national in his early 30's who's working in the government sector, stated that his interest in the World Cup lies in the players, the teams and the spirit of the game itself that brings a lot of excitement.
On the other hand, girl soccer enthusiast, Diksha, claims that 'some good looking players like Raul from Spain' are among the factors that interest her about the World Cup. In all probability the good looks and skill of footballers like Beckam and Klose capture and attract the attention of female fans around the world as well.
Every match from the start of this tournament was worth watching. Top guns made their early exits. And the supposedly 'under-achiever' teams progressed slowly to finish near the top.
Media has definitely enabled people to interact more with others from different walks of life. Thoughts and opinions may vary but all of them have one common interest and passion - football's most popular event: the World Cup.
This is what millennium football is all about.