suffering like a heroin addict. have to constantly slap my head to wake up to the real world and stop reminiscing at photos of rivaldo and ronaldo smooching (not, thankfully, each other but some golden tropy)...didn't even realise wimbledon was over.
prior to this i was a football (soccer, whatever it's called in your part of the world) newbie. i didn't even know what the offside rule was. when i found out, i didn't understand. don't bother trying to explain it either, as five people already have, and the logic still escapes me...imagine if such a rule was introduced into the NBA... shit...kobe wouldn't have half the baskets he's chalked up and the lakers may not have been three-peat champions this year.
but...i digress. the main reason for the despair of women around the world was the fact that the best looking footballers were no longer gathered for the convenience of our perving pleasure in the one place (or technically - this being Japan's and Korea's spot in the limelight - two places).
and the despair of men? this could be pinned down to many reasons including actually being more interested in the sport (as opposed to the players), a chance for male bonding as guys and their mates do whatever it is they do with beer and television sets when the world cup is on, and of course gambling.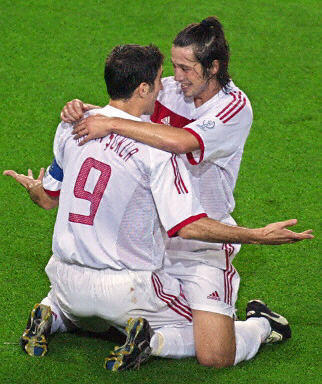 turkey's gorgeous players in a kodak moment
but how did we here in sunny singapore get our world cup cravings...er...fulfilled? by any number of means, as mardiana hayati bte osman found out - read all about it here.
but world cup or no world cup, this god awful island (or city, or state, or whatever it's called in your part of the world) known as singapore sees a lot of gambling. most of it's legal. some of it's not. cynthia cheong investigates here.
unlike some forms of gambling, films in singapore cinemas are usually legal...that is, after they go through a complex film review process that evaluates their eminent suitability, or not, for the eyes of various impressionable segments of the populace. but what rationale - if any - lies behind the ratings system? terry ying discovers more here.
well enjoy this inaugural issue of fish head curry...and if you have any comments, criticism, feedback or suggestions feel free to...er, keep them to yourself.
n.